If you want to start investing in property or you're already an experienced property investor looking for ways to maximize your earnings from property…then I've got some great news for you.
I'll reveal how you can discover my property secrets… and for FREE in a moment. But first…
Allow me to introduce myself. My name is Glenn Armstrong. I've been investing in property since 2004. I've featured in the Daily Telegraph, the BBC's Money Programme and Channel 4's How The Other Half Live.
I spend 1.5 days a week in my office then I travel around the country Tuesday to Thursdays looking at new deals and overseeing over 60 current development projects. Fridays I spend in my Bletchley training office looking and evaluating deals that have been brought in by people on my partnership programme (very much like dragons den).
I run my monthly mastermind group one Saturday a month and I run our 4 Day training programme once a month
Watch Testimonial from Frank Flegg
However, more importantly, I've so far helped over 65 people become property equity millionaires. People like;
Alex Berndt and Justin Doyle… Nikki Pope…Nick Pedrithes…Lee Berridge… Craig Shrigle …Melvyn De Friend… Darren Ladd and many others…
Here's what some of these property investors say about my property investing secrets:
To get your eight FREE videos simply pop your primary email address in the box below. After confirming your email, your first video will arrive in your mail box.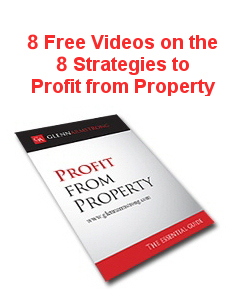 One thing, you will need to add my email address to your address book. By doing, this you avoid any of the emails I send you ending up in your spam folder. One final thing; I hate spammers. So I will NEVER share your email with any third party.
Latest Blogs
Question of the Week

Question about Commercial Property from this week's Mentee Webinar [audio mp3="http://www.glennarmstrong.com/wp-content/uploads/2017/04/QuestionoftheWeek.mp3"][/audio] Read more...

Glenn's Week

In Glenn's latest video on his travels, he shows you a finished Bungalow project nicknames Ewtor.Read more...

Question of the Week – B&B to Flats

This weeks question comes from Nick, who sourced this potential deal to discuss with Glenn.To listen to the question that…Read more...