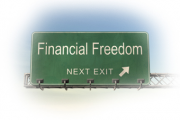 Posted on 07. May, 2013 by admin in Glenn's Blog
Since I started teaching people how to become financially free from property, I have heard A LOT of excuses from people who just do not want to be wealthy that badly. I'd love to help as many people to become financially free as possible, but I just can't help the people who do not want to help themselves.
If you want to be wealthy from property, I can help you to overcome all of your challenges.
Some of the excuses that I have heard are:
- No time
- Lacking the right knowledge
- No cash
- Low self belief
- They think this system is too good to be true
- Don't think they'll ever be as successful as someone else
- Believe they are too old/young
- Failed before
- People hindering their progress
- Negative press
What I want you to do is to throw away these excuses! They are the reason you are not wealthy yet!
How are you going to become wealthy?
Studies have shown that the NUMBER 1 reason people become wealthy or hold a lot of wealth in, is property! Property is a long term investment, meaning long term growth for you.
Don't let excuses which are very easy to overcome be the reason why you aren't financially free.