There's No Growth in The Comfort Zone!
When I first met Glenn 2 years ago on his Mentorship Programme, he asked me how hard I wanted to be pushed on a scale from 1 to 10. I said "10" without realizing what I had let myself in for. It was easy to become complacent and without Glenn's mentoring I would have stayed in my comfort zone for years to come. Because it's easy. And comfortable. But there is no growth in the comfort zone.
When I started my property business, it was a part-time occupation to supplement my salary with. My dream however is to own my own global Genetics company and I could never achieve that by working for someone else and having no time or financial freedom. Investing the traditional way with single buy-to-let properties built me a solid portfolio, but as I learned from Glenn, investing the traditional way takes time to bring enough cash flow for financial freedom. So Glenn taught me a number of different creative strategies to increase my cash flow faster – and get out of the rat race sooner. Despite my protestations, he convinced me to try the strategy of rent-to-rent, a strategy that had generally filled me with fear. Thanks to Glenn, I now have one R2R property that is cash-flowing £1,100 per month and I am taking on a second R2R property this month that is cash flowing a further £1,100 per month. The income from those two properties alone makes me financially independent (= passive income>liabilities). This means that I can now leave my job and concentrate on my dream: build my own Genetics business by using property as a vehicle to give me time freedom and financial freedom.
Recently - as I was getting complacent again! - Glenn suggested that I move into one of my R2R properties and rent out my own house to reduce my liabilities. Despite more protestations, I knew Glenn was right – so I have tenanted my own property, and I am temporarily living in one of my R2R properties rent-free while I am building my own capital using R2R and other strategies.
I am firmly on my way now to being financially free, to achieving my dream of having my own Genetics business and at the same time doing some incredible property deals with Glenn. Two years ago I would not have imagined that I could be where I am now, doing the deals I am doing now. And this is only the beginning of my journey. Watch this space ….
Markella

To get your eight FREE videos simply pop your primary email address in the box below. After confirming your email, your first video will arrive in your mail box.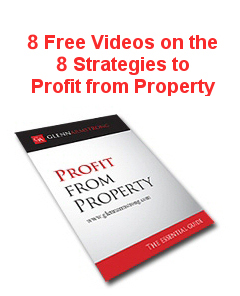 One thing, you will need to add my email address to your address book. By doing, this you avoid any of the emails I send you ending up in your spam folder. One final thing; I hate spammers. So I will NEVER share your email with any third party.