Posted on 31. Oct, 2012 by admin in Glenn's Blog
I call it the difference that makes a difference…
On more than 50 occasions, Richie McCaw has required stitches in his eye brows. He's also broken his cheek bones over a dozen times.
McCaw played through the last three matches of a tournament with a broken foot and numerous painkilling injections.
The tournament was the 2011 World Cup which he lifted as captain of the New Zealand Rugby team.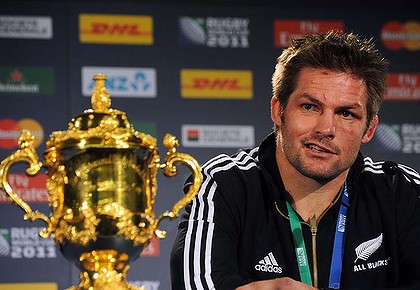 McCaw is unquestionably one of the world's greatest ever rugby players and has won 100 of the 112 games he has played for his country.
He thinks that having stitches is an occupational hazard of playing open side flanker. A position which requires him to scavenge for the ball and put his body on the line.
In McCaw's view, pain is temporary, winning is permanent.
Dave Brailsford, Performance Director of the all-conquering British Olympic Cycling team introduced lactic tolerance training for his cyclists. This consists of the cyclists cycling flat out until their legs feel as if they are on fire, and then the real training starts to see how long they can keep cycling.
Yes these are extreme examples of going the extra mile, but whatever you want to achieve, there's a price to pay. This may mean watching less television, working weekends, or sacrificing your nights out, in order to produce your great work.
There's a price to pay if you want to achieve more, and there's a price to pay for leaving things just as they are.
Whatever you decide, just don't be upset by the results you didn't get with the work you didn't do.
Ps. There are no queues on the extra mile.
I call this "the difference that makes the difference" or "your get ahead time"
I do not know a millionaire who has not worked 60-80 hour weeks.
I remember when I sold my video shops for 1.5 million and experienced the feeling of being a millionaire, then a few short years later finding out the company that bought me out and had paid me mainly in shares had gone into administration.
I ended up taxi driving and needed my get ahead money, 10 extra hours got me £100 get ahead money and 30 extra hours on top of a 40plus hour week gave me £300 get ahead money. I chose to put the extra "extra" bit in and accelerated my get ahead time dramatically. I was purchasing other taxis at around £3000 and renting them out at £125 per week.
Very soon I had 30 cars and a £3000 weekly profit.
I would have been taxi driving for years longer if I did not do the 30 extra hours and only done the extra 10.
If I had not done the extra 10 I would still be taxi driving…
Food for thought!
Every week, I will be posting the best questions on my blog, so to receive these, please sign up to the RSS feed by going here: http://glennarmstrong.com/blog/feed/
If you haven't yet signed up for my 6 part course, you can do so by filling in your details on the right handside.