About Glenn Armstrong
Glenn Armstrong - Millionaire Maker
The Glenn Armstrong Story
The video rental years
Taxi driver
Computer game distribution
Armstrong chooses property
The love of teaching
A dream achieved
The future
"The lenders know that with me involved, each project will be a low-risk investment. My student-partners and I share the profit on our joint projects: from their point of view sharing the rewards on a project that's going to definitely turn a profit is a far better scenario than having 100% of the risk of failure."
"Neither my students nor joint venture partners are tied-in so, as they get more skilled, they do simpler projects on their own. But they come back to Uncle Glenn for help with the more complex and ambitious schemes. Even multimillionaires, solicitors and accountants come to me to help them on their more advanced projects."
Glenn's Top Tips for Would-Be Property Investors are:
Buy in the right area – a maximum of 1 hour from where you live. This is to avoid a scatter-gun approach.
Don't get carried away on buy-to-let refurbishments, examine your target market and do the refurbishments in accordance with this market rather than your personal tastes.
Choose your buying criteria and stick to it, focus on your cash flow and not capital appreciation.
To get your eight FREE videos simply pop your primary email address in the box below. After confirming your email, your first video will arrive in your mail box.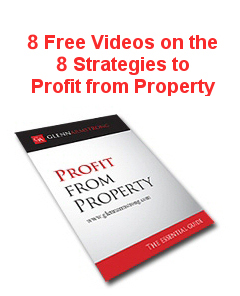 One thing, you will need to add my email address to your address book. By doing, this you avoid any of the emails I send you ending up in your spam folder. One final thing; I hate spammers. So I will NEVER share your email with any third party.