Can 4 Days Change Your Life?
I first saw Glenn speak at The Berkshire Property Meet in October 2013. I was struck by his novel approach to investment, his sense of humour and his obvious integrity. I signed up for his four day course immediately.
I attended the course in April of this year and was absolutely blown away by the content.
I've been involved in property investment for over seventeen years.
I've been attending property training courses, networking events and webinars since October 2012
I can confidently say I learned more about property and the practical application of sophisticated investment strategies in those four days than I had in the previous 18 months
Glenn's Four Day course is a goldmine of information but more than that it's engaging, at times challenging and utterly rewarding.
Glenn's style of teaching is superb. He kept my attention throughout the four days. He has a lovely blend of gravitas and humour. He controls the room well, making each attendant feel valued.
It doesn't matter where you are on your journey into property investment you will learn on Glenn's course.
It goes without saying I thoroughly recommend it.
Richard Wombwell
Facebook - Richard Wombwell Property Investor

To get your eight FREE videos simply pop your primary email address in the box below. After confirming your email, your first video will arrive in your mail box.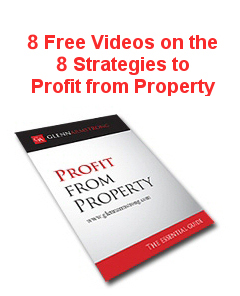 One thing, you will need to add my email address to your address book. By doing, this you avoid any of the emails I send you ending up in your spam folder. One final thing; I hate spammers. So I will NEVER share your email with any third party.